NJ NEXT
From Under Cover Music Fest:
The second annual Under Cover Music Fest is back, bigger and better than before. On Saturday, June 1, from 4 pm to 10 pm, world-class musicians from the area will cover popular hits from Aretha Franklin, Prince, The Meters, Bill Withers, Dave Matthews Band and Radiohead.
Get to know this year's performers, what they like to listen to and what they think about the bands they are covering in the Q&A below.
Band Name: Mark Murphy and Friends
Covering:  Dave Matthews Band 
Mark Murphy – Acoustic Guitar/Vocals
Ray West – Bass
Goh Izawa – Drums

Christian "Legend" Nourijanian – Keyboards
Mike McGarril – Saxophone
What's on your summer play list?
I love so many different kinds of music! Nice uplifting music is great for summer time! James Taylor, Joao Gilberto, The Band, The Beach Boys, Bill Frisell, Billie Holiday, Ella Fitzgerald, Louis Armstrong, Bob Marley, Alison Krauss, Pat Metheny and Paul McCartney.
What song(s) are you most excited to play at the festival and why?
Dave Matthews Band has a lot of great high energy festival type songs! We are really looking forward to doing the DMB set! I guess a couple of songs I am excited to play are: "What Would You Say," "Ants Marching," and "Dancing Nancies."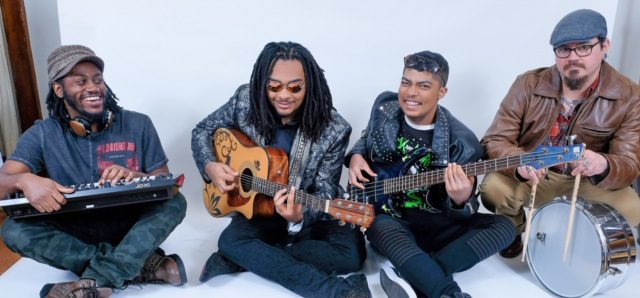 Band Name: Ricky Persaud Jr and Crossroads
Covering: Prince
Ron- Drums
Manny-Keys
Val-Percussions
Nick-Bass
Ricky-Guitar/Vocals
What's on your summer playlist and why?
Honestly, my summer playlists would be a mixture of The Beach Boys, Childish Gambino, and a lot of my own music. And yes, I listen to my own music. This is mostly because when I am about to release a new project, I would constantly listen to that project to make sure everything is how I want it to be. Furthermore, I am actually releasing a New EP this summer; hence the reason why I am going to be listening to a lot of my own music. If you are interested in checking out my music, just follow me on Instagram, Spotify, Youtube, and Facebook. Just search my name Ricky Persaud Jr.
What song(s) are you most excited to play at the festival and why?
The song I am most excited to play from our Prince set has to be Let's Go Crazy. Let's Go Crazyis such a high-energy song and a guaranteed crowd pleaser. This is also the song for where I can interact with the crowd with my cool call and response tricks.
Band Name: Nation Beat
Covering: The Meters
Members in band:
Scott Kettner: drums
Paul Carlon: tenor sax
Joe Correia: sousaphone
Mark Collins: trumpet
Mariel Bildsten: trombone
What's on your summer playlist and why?
I'm currently listening to the latest Preservation Hall Jazz Band new album and some folkloric music from Brazil. I enjoy listening to music from Brazil and New Orleans while imagining new ways of mashing up these styles.
What song(s) are you most excited to play at the festival and why?
I'm really excited to perform our arrangement of Hey Pocky Way by The Meters. Our version of the song truly exemplifies our unique style of blending rhythms from New Orleans and Brazil. The groove that Zigaboo originally played on Hey Pocky Way lends itself to morphing into a Maracatu rhythm from Brazil really well.
Band Name: Charlie Pollock and Friends
Covering:  Radiohead
Members in band: Charlie Pollock, Jason Laughlin, David Macerone, Hudson Pollock and Mike Daleo
What's on your summer playlist and why?
The warm weather makes me think of Texas, where I grew up. So, every summer seems to be about country music for me. This summer, I'm going to be all about Jason Isbell!!!
What song(s) are you most excited to play at the festival and why?
We are playing a Radiohead set, so I'm excited to play all of it! But if I had to pick one song… Karma Police. It's an iconic song and I have a specific, perfect memory of where I was when I first heard it. Every time I sing it, I get to time travel a little bit.
Also performing, but responses not provided is Curtis Winchester covering Bill Withers!  You'll just have to come out and hear him to find out more about him!
About the Fest:
When:  June 1, 2019, 4- 10 pm
Where: Sloan Street, South Orange
New this year is a large beer garden (cash bar) hosted by The Fox and Falcon, which will serve beer from four local New Jersey breweries, wine service, cider, a specialty cocktail and delicious festival food. The beer garden will be located on Sloan Street at the crosswalk in front of Starbucks (youth are permitted to enter, and provisions will be in place to ensure there is no under-age drinking). Kids activities will be provided by General Store Cooperative, which will also be selling music-centric wares from local independent stores, markers and artist.
Under Cover Music Fest isFREEthanks to the gracious sponsorship of Mark Murphy's MusicandVanessa Pollock Properties Group of Keller Williams! We also want to thank our supporting sponsors Garden Savings Credit Union, Miti Miti,  Township of South Orange, SOPAC, The Fox & Falcon, General Store Cooperative, Bunny's Sports Bar, Steve Vaccariello Photography, The Local Yarn Store, BCB Bank, Couto DeFranco, P.A., Yoni Kreger  Salon, Cold Stone Creamery, Eventage, Scalora Brothersand BGR Burgers Grilled Right.
For more information on the Under Cover Music Fest, including a schedule of events, visit its website here.